Saphir Medaille d'Or Pommadier Cream is an all-natural cream polish suitable for all leather shoes and boots.
This polish contains 7 natural waxes including beeswax, carnauba and shea butter. It also contains natural pine-based turpentine. Pommadier will clean, nourish and renovate fine leather. This cream polish is excellent to restore the finish of the leather and helps recolour and waterproof your shoes or boots.
We recommend applying this cream polish with the Saphir applicator brush included, which is particularly adapted for the application of the creams.
The polishing brush is indicated for the gentle cleaning of suede, nubuck and smooth leather. It gives shine to the waxes by conserving them on its natural bristles, without damaging the stitching.
The chamois cotton cloth is made of 100% natural cotton. It is perfect for applying creams on fine leathers and provides excellent shine.
Contains (1) Saphir Medaille d'Or "Pommadier" Cream 1925 Neutral, (1) Chamois cotton cloth, (1) Spreading Brush and (1) Small polishing Brush.
Box Size: 145 x 145 x 96 mm
Made in France.

Raw materials are selected according to their efficiency, and natural products are used: turpentine, beeswax, carnauba wax, lanolin, mink, neatsfoot and vegetal oil...

This is why Walcott's Footwear and international leather goods manufacturers use Saphir Médaille D'Or for the finishing of their leather.
The regular use of these products will enable you to preserve the original patina of your leather articles, protect them against weather and help you enjoy the special craftsmanship they were made with for many years to come.
All our Shoes are Handcrafted Made To Order by our Highly Skilled Artisans in our workshops in Spain. All Shoes are handcrafted & delivered in 4 - 6 Weeks.
See Our Shipping Rates Below
EUROPE : £4.99
NORTH AMERICA : £10.99
AFRICA: £14.99
ASIA: £15.99
REST OF WORLD: £17.99

Please ensure all items & details are correct before submitting your order. ( size - see size guide listed under products, address & contact details )Remember that you are purchasing a totally Made-To-Order product which is not produced in advance, every part of it will be crafted, exclusively for you.
EASY RETURNS
You will have 14 days from receipt of your goods to raise a return request
We aim to reply within 48-72 Hours.
WORLDWIDE SHIPPING
We use DHL as our preferred shipping partners. £4.99 Worldwide Shipping
You will normally receive your goods in 3-5 Days from receiving your Shipping Confirmation email
*Please note that on major international holidays there could be minor delays in delivery. (we will not be held liable for parcels held by customs)
WHAT IF THERE'S A DELAY ON MY ORDER?
We will do our best to fulfil the above production time for all the orders, however, as a hand-made production process, our production line is subject to issues which are out of our control. Issues like stains or broken pairs while moulding the shoes, forces us to start the manufacturing process from the beginning.
In those cases, we will do our best to keep you informed and try to finish manufacturing as soon as possible.
On the unlikely event of not being able to produce your pair again from the beginning in a reasonable amount of time (i.e. Out of stock of a certain material), we will contact you immediately and offer an exchange or a full refund
WRONG OR DEFECTIVE PRODUCTS
If you believe an item to be defective on delivery & would like to discuss a return, please contact us within 14 days of receipt of goods via our Returns Page. Please provide a detailed explanation & photographic evidence of all defects - photos can be sent to info@walcotts-footwear.com
The returned product should be unused & in its original packaging.
The cost of returning the product will be payable by the customer.
*Please bear in mind that each individual skin is unique & genuine. Our hand cutting artisan will arrange cutting patterns on the leather-based on their own experience & craftsmanship. There might be differences in skin patterns, size & tones.
If the leather has any type of irregularity it is due to this fact & is one of the special characteristics of a 100% handcrafted product.
On receipt of the returned product, Walcott's Footwear will examine & determine if the refund is applicable.
*Please note that Shoes with your Personal or Embossed Initials cannot be returned under any circumstance.
Please review all orders before submission to ensure all is correct.
INTERNATIONAL & LOCAL CUSTOMS
Walcott's Footwear is not responsible for any customs fees. Customers must coordinate with the appropriate customs office of their residing country to coordinate pick up or delivery of their shipment, and to process payments for any customs charges. 
Our calf tanneries come from North West Spain, Germany and Italy.
Box Calf
Calf Suede
Kid Suede
Calf Crust - Hand painted calf
Patent Leather
Polished Calf
The above types of leathers represent a full array of leather skins. They are all used in luxury shoe production and they are different from the "look" and "texture" point of view.
Crust calf leather (painted calf) enables artisans to hand paint the pieces with special creams and brushes. The look is very artisanal. Source is CONCERIA NUOVA ANTILOPE from Italy (same crust material used by Santoni, Berlutti, Andres Sendra, among many others.
Box Calf is the regular calf leather use on mens shoes ready made collection
Calf Suede is our regular calf suede used in most of our ready-made production
KID SUEDE is the most soft, velvety suede leather type which comes from small goat skins. The skins are pretty small which increases the price of leather (consumption per pair). This is a very delicate suede.
Polished calf refers to rectified grain calf. This eliminates any skin imperfections. The look is not as natural as a regular, plain full grain, but the look is very good, luxurious. This type of leather is quite expensive because of the post-production processes that it needs at the tannery. 
Leather Grades Explained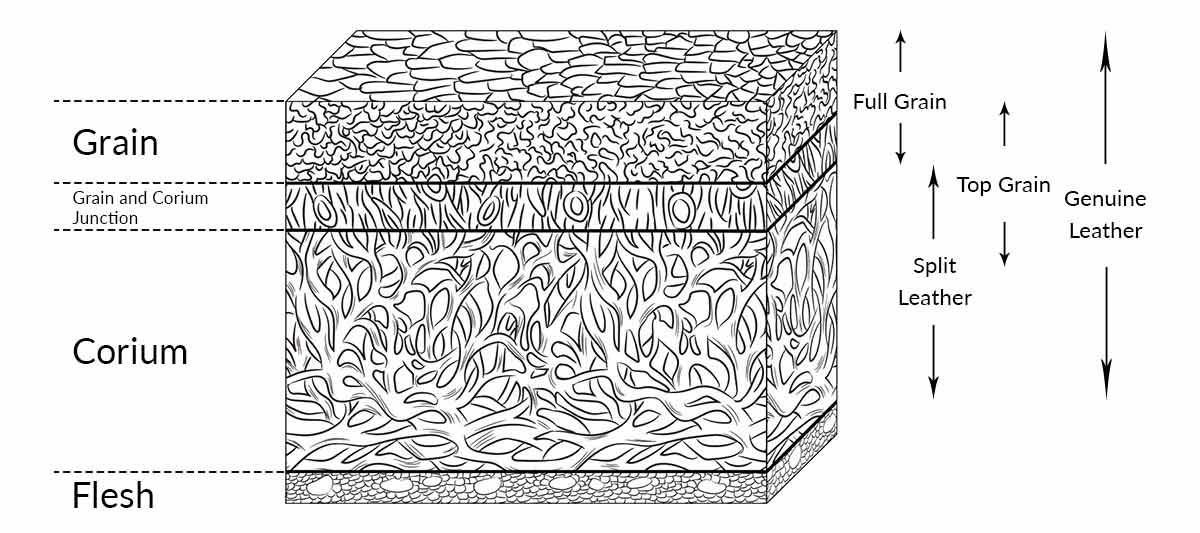 Apart from the construction of a shoe, the other most important aspect is the choice and quality of leather. As with most things in life leather has variations, or "grades". Here is a quick overview of the most common grades of leather. 
Full Grain Leather is the best quality leather sitting at the top of the chain. The majority of our smooth leathers can be categorised as high grade full grain leathers. It refers to the outside part of the animal's hide just below the hair. The term "Full" means that it has not been buffed or sanded, which is a process that is used to remove imperfections or marks. The tight porous nature of the leather prevents moisture retention but it also means that it is thicker.
Essentially, Top Grain Leather is like full grain but with a twist. It undergoes light sanding to shave off a few millimeters from the top, removing any imperfections. One of the most prominent kinds of top grain leathers is Nubuck.
Lastly, the most common type of leather comes in many forms and has many names but is best known as Split Leather. It is created from the Corium part of the hide after it is split off the grain layer, hence its name. A prominent kind of split leather is Suede.
Our Production Supply Chain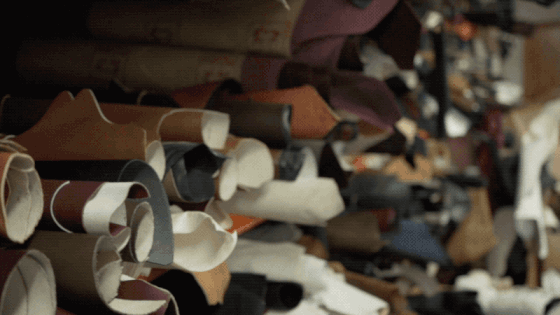 Buying leather may sound easy. Pick up the phone. Place an order. Leather arrives… well, not here at Walcott's Footwear.
If we send leather into the factory that is not up to our Premium Quality standards, the product suffers, the factory struggles and we cannot meet our core Design Values 

LUXURY STYLE | PREMIUM QUALITY | HIGH COMFORT
This is why great importance is placed on searching and buying the most expensive element to our high quality footwear. 
The Break of the Leather
When sourcing the higher grade full grain box calf from the best European tanneries, we are always looking for a material that has a 'fine break'.
There is a saying in the industry –'the break of the leather'– which refers to creases made as the leather naturally flexes time and time again as it is worn. Of course, all shoes take a huge amount of punishment as they are worn day-to-day, open to the elements.
Only the finest full grain leather, if cared for well, will continue to spring back and hold its shape over time, so we always look for 'a good clean break' in our leathers.
Alligator Genuine Skin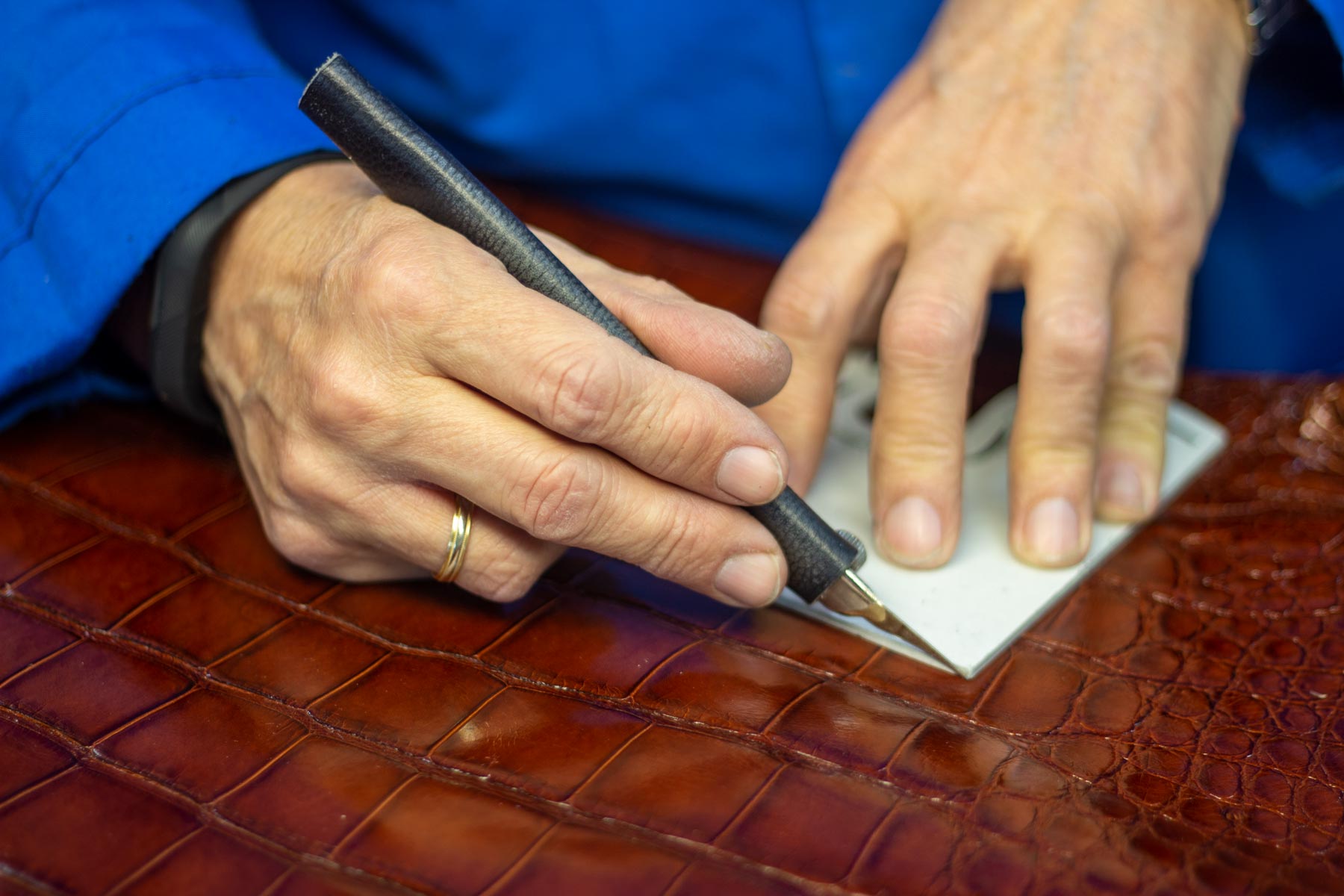 "Alligator mississippiensis" skin renders a very attractive and fashionable leather. The leather is strong, supple, durable and very expensive. A bony layer within the skin adds a protective shield, while a dimple on each scale makes a very exotic look.
Hailing from the Southeast USA and frequently harvested from farm-bred gators as well as from wild animals, American alligator skin is a classic, durable and versatile leather. The American alligator's hide is the soft and more pliable material. This is because the skin of this reptile is less bony than the skin of crocodiles. This softness makes the alligator's skin easier to work with than the skin of other reptiles, making it easier to work with for cutting, stitching and folding. 
Ostrich Genuine Skin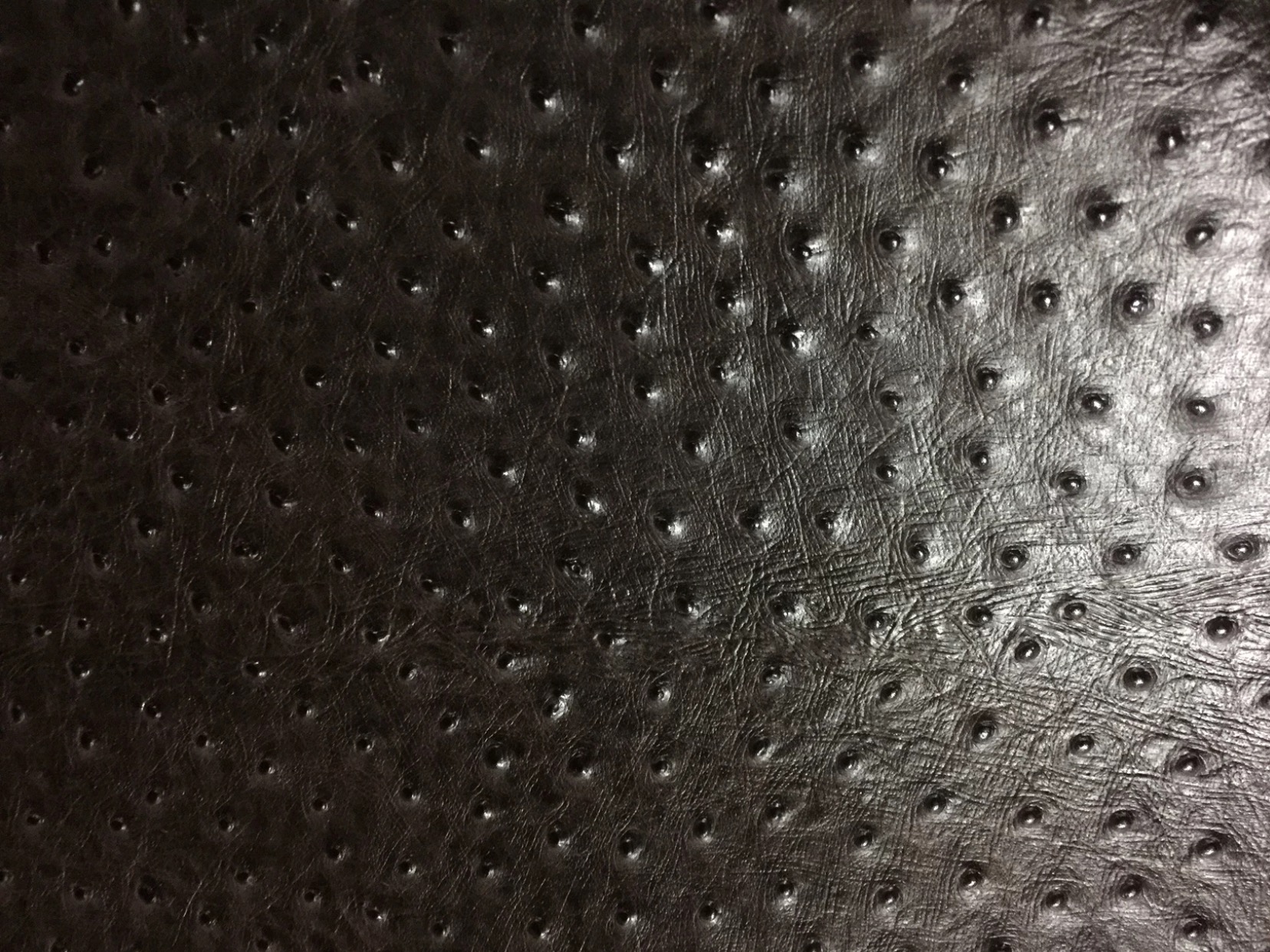 Ostrich leather is one of the finest and most durable leathers. It's a luxurious leather well known for its softness, flexibility and durability. In spite of its softness, Ostrich leather is unsurpassed for its tactile strength. It is, in fact, one of the strongest leathers available. Naturally occurring oils in the leather contribute to its durability, preventing cracking, even under extreme temperatures and sun exposure.
The main distinguishing feature of ostrich leather is the quill or feather socket markings. The "full quill" area of the leather is the most sought after and therefore the most expensive type of ostrich leather. The quill pattern is the result of large follicles which each contained a feather.
Python Genuine Skin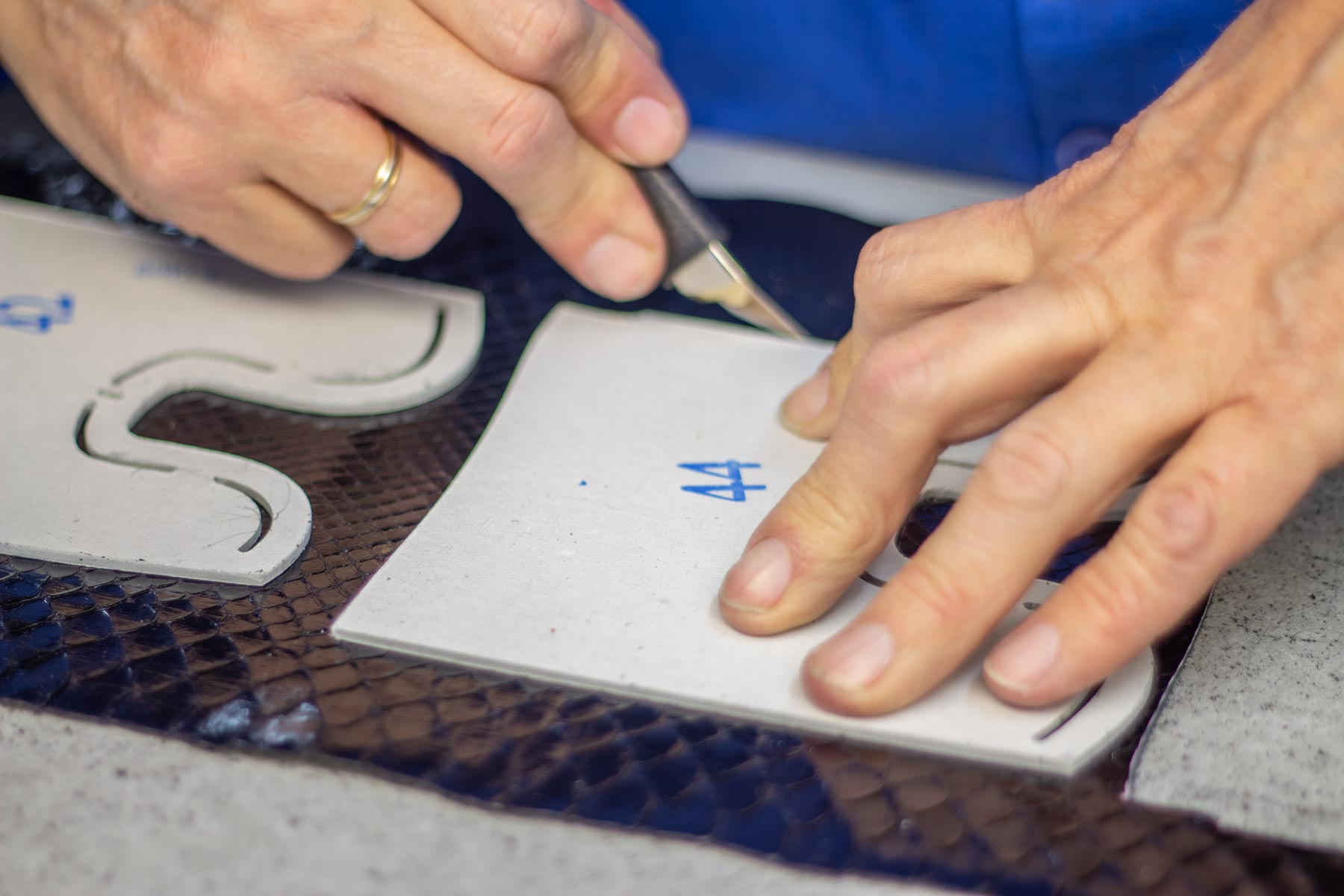 Snakeskins are very desirable for shoes because of the unique grain, scales, and colour patterns. Snakes are skinned in two ways, cut down the belly scales leaving the small scales in the centre "belly" or "front" cut python, and cut down the back leaving the wide belly scale in the centre, called "back" cut python. We use the "front" cut python.
The scales were the snakes protection from the elements and are essentially like a callous, dead skin. The size of the scale will vary depending upon the area of the skin cut. The scales have a "lip" open toward the tail will grab and aid the snake in crawling. This lip is your assurance that the snake is genuine.